Over the last few weeks I've had many people ask me how I came about developing a massage cream.  In fact, it all just sort of fell into place.  Beginning back in March I envisioned creating an instructional video on Self Massage for Recovery.  I'll detail how that was created in another post.  However, in the video, I recommend a few different professional products that I use in my office.  But over the years I've really struggled finding a massage cream that was targeted toward sports massage.  As we began to get close to a finished product for the video I had people around the country review and it offer feedback.  A common inquiry was "Where can I find massage cream?" or "Are you going to sell massage cream?".  At about the same time I contacted the owner of my massage cream supplier to ask if he had any plans for producing a sports specific recovery formula.  He told me that he did not but offered that I could buy his unscented cream and add essential oils to create my own private brand.  This was an idea that I have thought about for years but didn't know how I could pull it off.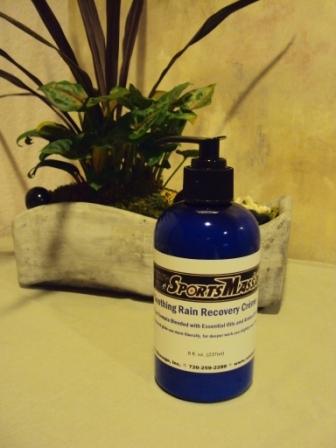 I visited his facility and purchased the raw materials to create Soothing Rain Recovery Creme.  It began with creating one ounce samples with various combinations of essential oils.  I passed these on to athletes who are using the self massage technique and they provided feedback.  I began using the different blends with my clients as well.  After some tweaking I've found a formula that both I and my clients and athletes really like.  I'm adding in four different essential oils and extracts.  Below is a list of some of the attributes associated with these ingredients.
Arnica Extract – 
Arnica is used topically for a wide range of conditions, including bruises, sprains, muscle aches, wound healing, superficial phlebitis, joint pain, inflammation from insect bites, and swelling from broken

bones.

Homeopathic preparations are also used to treat sore muscles, bruises, and other conditions caused by overexertion or injury.
Cedar increases emotional fortitude, self-respect, and integrity, and stabilizes emotions by "grounding" an individual.  It enhances meditative relaxation, intuitive work, and relieves stress, aggression and emotional dependency.  
Eucalyptus –
Acts an an antiviral, antibacterial and decongestant agent.  The scent increases energy, countering physical debility and emotional imbalance.
Clears sinus and lung congestion and is used to treat muscle spasms and inflammation.  The scent counters insomnia, shock, mental fogginess and lack of focus.  
So as you look at the attributes of the individual essential oils and extract you can see that I wanted something that not only was valuable for physical recovery and healing but also for emotional strengthening and balancing.  I think that both the physical and emotional need to be in balance not just for athletes but for everybody.  Below is the "elevator speech" regarding Soothing Rain Recovery Creme.  It will soon be available online in my web store.  For now you can place phone orders to me at 720-259-2289.  The cost is $14.95 for an eight ounce bottle.  Local sales tax applies to Colorado residents.  I will ship anywhere in the continental United States with a flat rate of $4.5o for shipping.  For international shipping rates or a free 1/2 ounce sample please contact me at rainingfaithmassage@yahoo.com
Soothing Rain Recovery Crème is a nut free massage crème carefully blended with Arnica Extract noted for decreasing inflammation and aiding in healing damaged soft tissue.  The crème is designed to meet the post race and training needs of the endurance athlete.
The scent is formulated to help endurance athletes transition from the "fight or flight" response brought about by racing and hard training to the "rest and recovery" state of mind where healing can be maximized thereby allowing the body to repair and rebuild for the next hard effort in an effective training plan. 
Soothing Rain Recovery Crème will invoke a sense of confident calm knowing that you've done the necessary work maximizing your recovery needs. 
Sources for attributes of essential oils and extracts
University of Maryland Medical Center
Aromatherapy – A Complete Guide to the Healing Art by Kathi Keville and Mindy Green. The Crossing Press 1995
The post New Product – Soothing Rain Recovery Creme appeared first on Raining Faith Massage.
The post New Product – Soothing Rain Recovery Creme appeared first on Raining Faith Massage.