During the night I wake up, have to go outside to answer nature's call and am treated to a big, beautiful moon. It is closer to full with each night, and it is so wondrous that for a split second I think I should wake Wendy the bikepacker so that she can check it out. She seems like the kind of person that would enjoy such a moon. But she is likely, as well, to be the kind of person that would think I am crazy to be waking her up in the middle of the night. I wisely decide to keep the moon to myself.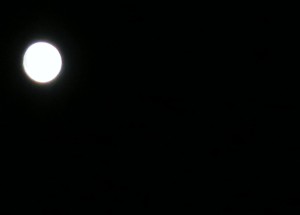 I'm up early, earlier than my camp mates and I'm on the trail by 6:30. I bid farewell to the young couple that are up when I leave but Wendy the bikepacker's tent is still pretty quiet. Because I camped close to the creek, the condensation was heavy overnight and my tent is very wet. I've learned now though that hitting it quickly with my small piece of shamwow does away with the majority of the water and just leaves the tent damp and easier to dry in a few hours when the sun is up.
Within in an hour I spy something quickly jetting through the forest. It was black and I only caught a glimpse of it. I stop, wait a second and then see a second something running through the forest. The something is a turkey and he quickly disappears over the knoll. I stop to be sure there aren't any more and just listen. I hear the call of a hen and then the gobble of the tom responding to her. They go back and forth for a few minutes and already at this early hour I feel as though I have caught a rare treat in the wild.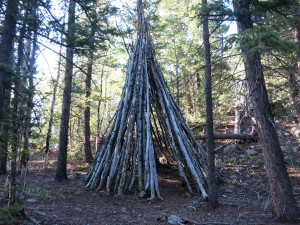 I stop mid morning to dry my gear and expect Wendy to catch me at any moment. But by the time I mosey on she still has not arrived. Most of the morning I figure that she will pass me when I am relieving myself along the trail. I make good time during the morning and eventually come to a dirt road that then leads to a paved road that is part of the Colorado Trail leading to Mount Princeton Hot Springs. Once on the road, and because it is a downhill grade and I can maintain an easy 3mph pace I cruise into the Hot Springs Resort at 11:15am. I have covered 11.3 miles in less than five hours and surprisingly still have not seen Wendy. For sure she will go by me as I plan to spend a few hours here enjoying lunch and hopefully a shower.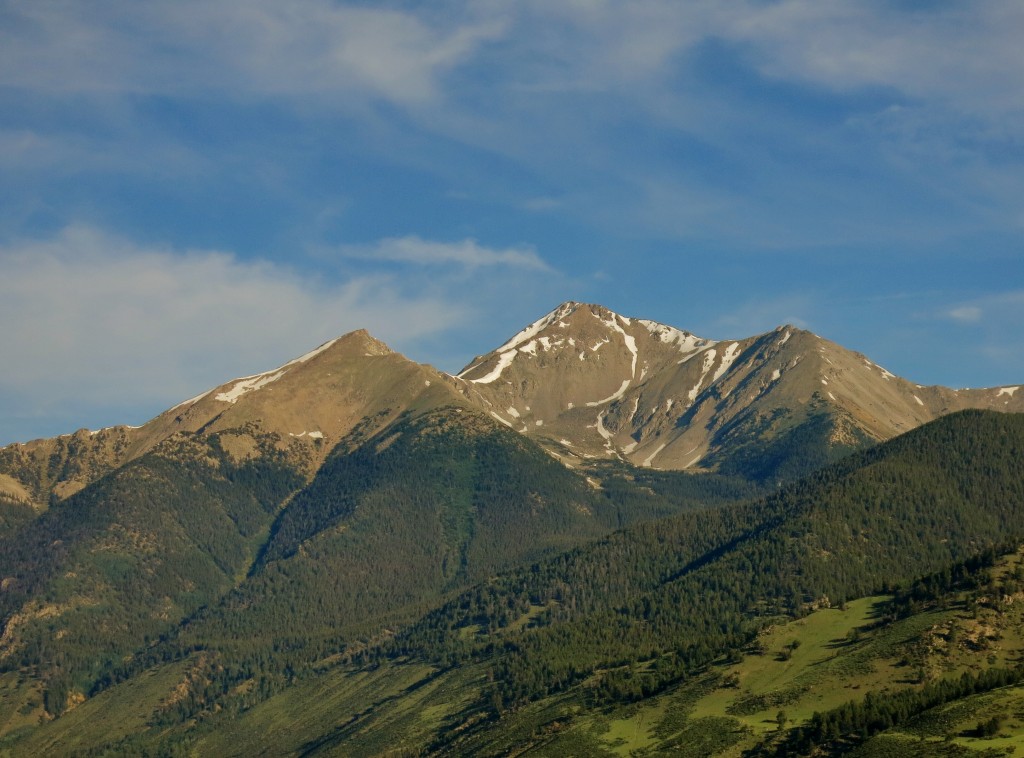 I inquire at the desk about WiFi, a shower and their hot springs pool, and what time is lunch being served? I don't really care so much about the pool as I do getting a shower. But first things first, a restaurant meal! I'm seated outside on the patio with a lovely view of the Chalk Cliffs, blue skies and white, puffy clouds. I've already thought about what I'll be eating. Turkey kale soup please, followed by a salad and then your Mt. Princeton Signature burger. Oh, and please bring my beer with my burger, but not before, thank you! I must have ice cream for dessert and while they do not have Vanilla they do have Butter Pecan, and although I would never pull it off the grocery store shelf it sounds delightful. As I eat my ice cream I think about my dad, who very much liked Butter Pecan, and now I can see why as the buttery creamy goodness coats my tongue. I indulged and had two scoops and the waitress informs me that she didn't charge me an additional $2.50 for the extra scoop because she felt "It just wasn't right." She gets a nice tip for that and I could care less how much it all costs because my money spent per day on this gig is pretty light.
I grab a shower both before and after my dip in the hot springs pool. While in the pool I meet a retired gentleman that is from Johnstown, CO and vacationing in Buena Vista for a week in his RV with his wife, (she has peripheral neuropathy, but is quite the trooper, you know). He shares how he cannot get over how friendly everybody is in the small mountain town of Buena Vista. At the local church they assured them that they can get the best parking and best view for 4th of July festivities. Others in town have helped him out and it pleases me to hear him say this.
I began my years as a wanderer when I was a teenager racing bicycles. Over eleven years racing bicycles and managing a cycling team allowed me to see almost every state in the lower 48 and also spend time in Europe. I was blessed by the hospitality and graciousness of people all over our country. Years later I moved to Romania and lived there for two and half years. Living there afforded my family the opportunity to visit many European countries and different cultures. Again and again I have learned that our world is filled with fantastic, interesting, friendly, loving people. I think at times people become confused that the world is an evil world and that those that are less than loving and gracious outweigh the good. My belief is that they do not. Travel has shown me that we live in a great place, especially being able to live in the United States. If ever you doubt this, I suggest you get out and just begin talking to strangers. It restores my faith in humanity.
After my dip in the pool and a second shower, (just because I could), I went by the front desk and picked up my box of resupplies. I had food for the rest of the trip and an extra canister of fuel. I spread my things out on the lawn in front of the resort and began repacking my pack. I strolled over to the little general store there and looked around. There were a lot of great things to buy but I didn't want the excess weight so I decided on a root beer and went back out to the lawn to call Pam. I had been unsuccessful on earlier tries that day so I was relieved to finally get through to her. I sprawled out on my belly in the cool green grass and caught up on the latest at home like I was talking to a girlfriend and I was eighteen all over again.
Hitting the road once more, my pack was heavy, my belly was full, it was hot and the two showers were like a forgotten thought after 20 minutes as I was sweating again. I was way ahead of schedule, even killing three hours at the resort it was still only early afternoon. After a few miles I chatted with a gentleman that lived on the road. He asked me if I need any cold water (again, friendly people abound!). I told him I was in good shape and we talked about people hiking the trail. "Have you seen a woman on a bike come by?" I ask him. "Yes, yes," he replies, "she came by much earlier, head down, getting down to business." The time he tells me that he saw Wendy the bikepacker makes me wonder how I could have missed her. Sure enough when I re-enter San Isabel National Forest I see she has signed in but didn't jot the time down. Wendy is well ahead of me now.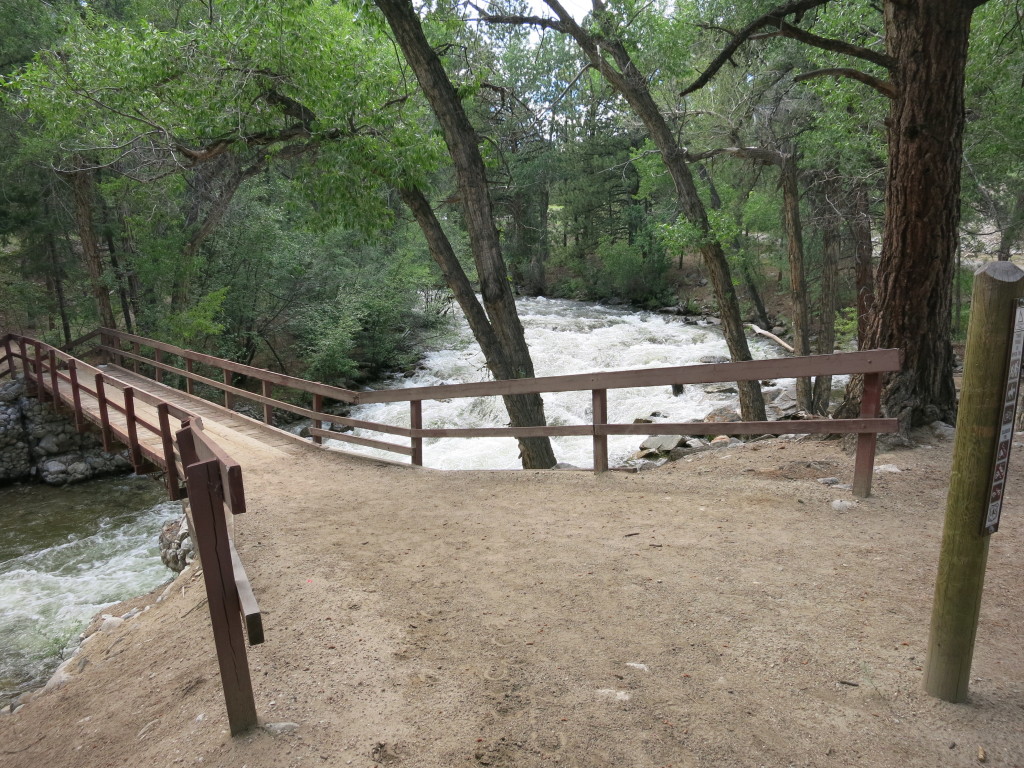 The initial miles back on the trail proper are brutishly hot and uphill for the first mile and a half ascending 1000′ in elevation. I top out and move down to a creek, not needing water and moving through. In a little while I come to another creek and in addition to filling my two half liter bottles I put another liter or so in my camelbak because I might be dry camping for the night depending where I stop. I'm now ahead of my planned itinerary and I can camp wherever I please.
The area now is fairly flat with more open country, dotted with Ponderosa Pines and some Sagebrush. It reminds me more of New Mexico and high desert plains. Darker clouds build to the west and it makes me a little uneasy if a storm should roll in quickly. I keep walking toward the horizon hoping for thicker forest where I'll have better options for quick cover. But at each point it remains open. At Raspberry Gulch the area doesn't really suit me so I keep walking. Eventually I come upon a northbound CDT hiker and we chat awhile. I tell him about Mt. Princeton and as expected he parsimoniously grunts at the thought of an $18 dip in the pool and access to a shower. He asks how late they are open and wonders aloud whether he can make it there before they close. We bid each other adieu and as I walk on I ponder whether he was talking about the bath house or the restaurant.
I keep walking and walking, and at one point wander off trail looking for a camping spot. But it just doesn't suit me so I keep walking. I'm still so full from lunch that I don't need to worry about making dinner tonight so I can hike longer into the evening than I normally would.
I believe I keep walking because I think about how nice it was to have company the previous night on the trail. I was spoiled by the friendliness of people back at Mt. Princeton and I realize that I have missed the company of others. At each bend I secretly hope I'll see someone camped. Eventually, I've gone so far that I come to the junction for Brown's Creek trail which I had only planned to get to on Wednesday mid morning. I take a right and begin the trek west toward Brown's Falls and Brown's Lake. After a mile or so I find some suitable area and wander off trail. This looks good, I'll spend the night here with a good view of the long valley ahead and to the west of my camp. I pitch the tent, grab my shamwow and make my way to the creek nearby. I go through the ritual of cleaning up in the crisp, cold water attempting to exhume the cleanliness from my earlier shower that got buried in another nine and a half miles on the trail. As I settle into my abode I realize that I covered another 20.8 miles today. Much longer than I anticipated. Much of it in hopes of finding a friendly face for the evening. But, in the end, it is just me and the wilderness.