The rain stopped sometime overnight and was partly cloudy but beautiful in the morning. I decided to have breakfast on the trail and just had coffee before departing camp at 6:30. After filtering some water I was back on the Colorado Trail proper at 6:55. On Tuesday I would be heading into Mt. Princeton Hot Springs to hopefully have lunch at their restaurant and pick up a re-supply box. Their lunch menu closed at 2:30 pm and would not re-open until 5:00 for dinner. So in order to avoid having to race down the trail on Tuesday I wanted to cover more miles today. My goal was to maintain a steady pace all day.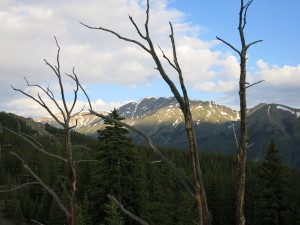 The first ten miles would be largely downhill to the Silver Creek trail-head. From there it would be an abrupt 3.4 mile uphill grind ascending 2459′. This would be the only real uphill section of the day and I mentally prepared myself for the task at hand so as to not be unprepared like I was yesterday for the mental battle with the mountain.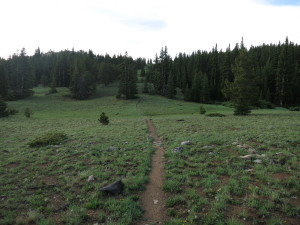 I was moving east of Mounts Harvard and Columbia with lovely sunshine, aspen groves and good trail. I crossed Frenchman Creek which was flowing quickly and climbed a little higher above the trail in order to view the cascade of water coming off the mountain. Another mile or so down the trail and I came across Carole, the woman I had met the day before and her Golden Retriever, Bella. She expressed her concern yesterday over the severity of the ascents we had covered and then told me she had cramped up after crouching in some brush to avoid the late day thunderstorm. I concurred that the climbs of the previous day, along with the heat, had really challenged me as well. "I'll be just up the trail drying my gear and having some breakfast" I told her, "I'll probably see you there."
Away I went and in just a short distance I found a nice sunny spot albeit with some ant hills where I could spread my fly and tent out to dry while I had some granola. But after 20 minutes or so I packed things up without seeing Carole and headed south on the trail.
Not long after I hear something behind me and look to see Carole literally jogging down the trail with Bella. "Hey, Matt, do you want some company for a while?" I tell her, "Why not?" and we settle into a rhythm. Initially, Bella seems confused as to where she should fall in line but after a few minutes she trots easily between myself and Carole. I discover that Carole is a teacher, thus allowing her the freedom during summer to take on her trail endeavor. In another small world moment it ends up that she works with a client of mine and that a very good friend of her family's was a guy I raced bikes with a few years earlier. Again, I am amazed at the solid connection of friendship that can develop within just a few hour period when I meet someone on the trail. Carole and I walk along like old friends for a few hours before she tells me she needs to stop to shed some clothing due to another warm day. And with that she stops, Bella realizes that she, too, needs to wait and I head down the trail wishing her good day and that I hope to see her again over the next few days. However, I never see her again until we make contact on Facebook the next week regarding trail conditions of a segment further south.
There are a lot of hikers going alone on the trail and it is not unusual to cross paths over several days. But everybody is "hiking their own hike" and an unwritten rule seems to be that if you need to slow down, speed up or take a break, others aren't expected to follow along. More often than not, you'll see each other again.
I arrive at Silver Creek trail-head and immediately filter water, drink a liter and then filter another liter for what I know will be a hot climb. I have a quick lunch and also take the opportunity to wash socks, my shirt and myself. I have picked up odors that are literally quite disgusting. Because of an unusually wet spring and now summer I am constantly wet from sweat, damp from humidity or wet because of rain. This is not the typical "dry heat" we are accustomed to as Coloradans.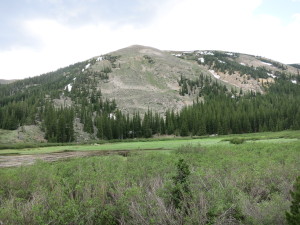 The initial two miles are a straight uphill grind. I find I have cell service and pop off a text to Pam and Jamie. "The first miles of segment 13 are a beast!" I have to get into a groove of breathing, stepping, not using my trekking poles excessively, remembering my quads and hips are the strongest part of my body, let them do the work. Every ten minutes I stop to catch my breath, take in the views of the steep draw I am in and survey the skies for imminent storms. I want to get beyond the pass at 3.4 miles so I can descend back into the next valley. After a few miles the trail levels off and I can step up my pace a bit until it becomes more abrupt for the last mile or so. I catch a couple with a dog and they are thru-hiking to Durango. They've been on the trail for a while but have had to flip flop on some sections due to the remaining deep snow at some of the higher elevations. We chat for a few minutes and I move on and never see them again the rest of my trip.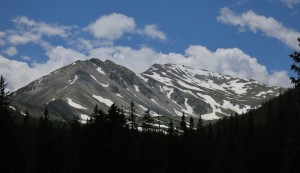 The cross of the saddle east of Mount Yale offers one of the finest views I'll find on this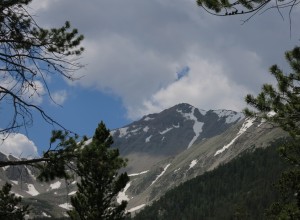 east side of the Collegiate Peaks. I wind my way down to Avalanche Gulch, quickening my pace as thunder pounds the valley with some distant lightning. I get into the trees, cross Cottonwood Creek and cover a few more miles before finding a decent campsite. I set my tent and go to the creek to filter water for dinner. In an eddy in my peripheral vision something bright green catches my attention. I wander over and think at first it is a Mountain Dew, but no, it is something even more magical! It is a leftover beer from some car campers! I snatch it out of the creek and immediately look all around to see if I will be chastised for grabbing this liquid treasure. I think I squealed in delight as I carry it back up to my camp and listen to the release of carbonation as I pop the top on this can of liquid gold, my unexpected reward after a 19 ½ mile day.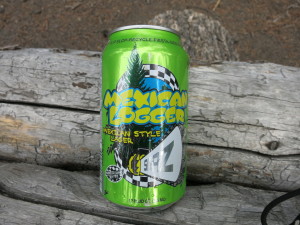 I end up having company for the evening in the form of a young couple from Nebraska vacationing for a week hiking 13ers and 14ers and then a woman from Steamboat Springs who is bike-packing the Colorado Trail. It is lovely to have human contact for the evening and my energy is renewed as I journal and peruse my maps by a silent fire ring, the sun setting into our little hostel along the South Cottonwood Creek.
Today's Mileage – 19.4  Trip Mileage to date – 64