I slept in today until 5:45! The skies were ominous as I made coffee and breakfast. Everything was still wet and I realized that the sack for my tent pegs had been left out in the rain from the previous afternoon. I'm pretty diligent about putting things in their places and all stuff sacks always go in the tent with me overnight, so I laid the sack aside to dry with the rest of the wet things.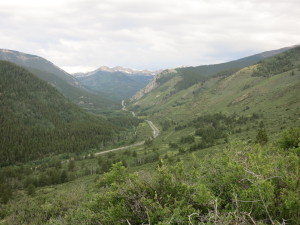 By 7:45 I was on the trail and by 8:30 I could see storm clouds rolling in over Monarch Pass where I would be ending my day. It is unusual to have actual thunderstorms that early in the morning and just when I was contemplating throwing on a rain jacket I happened upon a forest service toilet with a porch. I ducked in there and was at ease watching the raindrops come down on Fooses Creek. Oddly enough as I stood there I contemplated having to step out into the rain to answer the call of nature. It took a few seconds before I realized there was an actual toilet through the door to my left!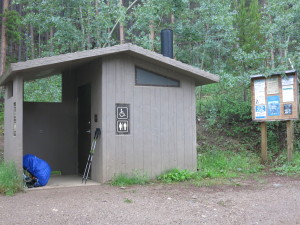 30 minutes later I was off and up the trail, which was actually on a forest service road. Seeing I had cell service I put in a call to Walter to inquire about a weather forecast. I knew that tomorrow I would be spending some significant amounts of time above treeline in exposed areas. If morning storms were going to continue on a daily basis I wasn't overly excited about playing chicken with lightning. He told me that supposedly the storms were supposed to hit later in the day, which was the forecast for today as well. Bah! That didn't hold true.
I had to climb 3,000′ over eight miles to get to the Continental Divide. Because the grade was over eight miles I knew it wouldn't be steep, but very gradual. Once I got to the divide I would turn right, heading north toward Monarch Pass. This would put me on the much higher Continental Divide Trail which shares the trail with the Collegiate West portion of the Colorado Trail.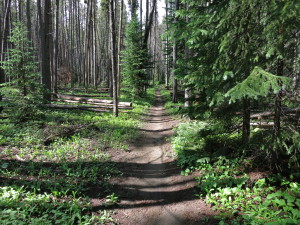 The trail was beautiful as it wound its way just east of Fooses Creek. While the tread was spongy and muddy at times it was highly verdant and magical. I came across a group of four young men at 10:30 that were cleaning up camp and drying gear. "Hello wet backpackers" I offered in a cheery tone, my spirit much more buoyant than it had been the previous day. I felt rejuvenated and passing people and weekend campers on today's trail gave me a happy lift. "How is it going?"
"Wet, tired, miserable", came the reply from the youthful spokesman. "We're on day 8, we started last Friday at Twin Lakes. We got caught in rain late yesterday and then were pretty cold sleeping last night. Today's our last day and we'll finish up at Monarch Pass."
For a week I had been trailing these guys. They had a 20 mile head start and I had made some side trips so I felt pretty good about the progress I had made. As miserable as yesterday was, I was in better shape collectively than they were. There looked beaten and very tired. I told them they had done a great job and thought I'd see them later higher up on the pass.
Not long after I passed a fabulous looking bridge. I wish I had made a point of taking photos of all the bridges I crossed. While many were less than engineering marvels, others were extravagant. In any area that is designated wilderness it is my understanding that all trail work and maintenance has to be done with hand saws. There are no vehicles, motors or engines permitted in US wilderness areas. Not even a bicycle can enter, only foot traffic and pack stock. Other areas that are National Forest, crews have used chain saws to fell trees and then construct bridges from one single tree. It is incredible and the volunteers, crews and teams that maintain the Colorado Trail do a phenomenal job. CDT hikers had commented to me earlier about the ease of the walking on the Colorado Trail. "There are bridges over the creeks, and the trail is well marked and maintained!" they would exult.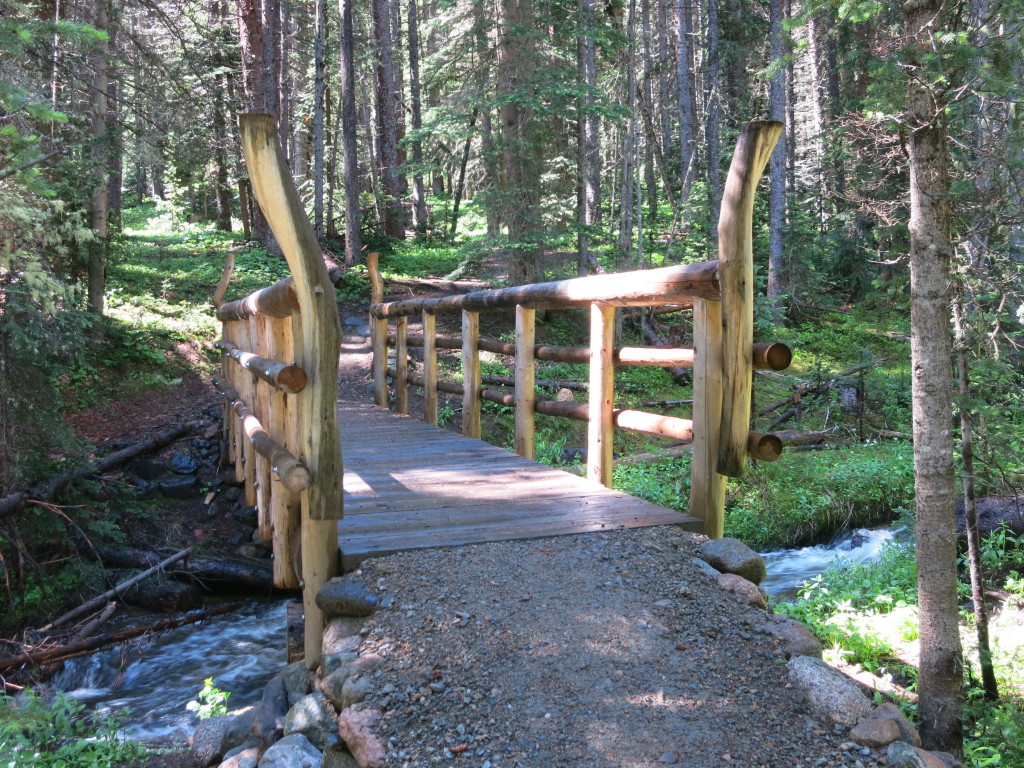 A group of five mountain bikers made their way toward me and then shortly thereafter I passed a young woman with a light pack, sandals and socks. She had two followers just out of sight in the same kind of attire. I stopped to chat with a young man (boyfriend) and a small boy. I soon found out that the boy was none other than Buddy Backpacker, a relative celebrity in long hiking circles. "Buddy Backpacker" (his trail name) is 7 years old and has already hiked the Appalachian Trail and the Pacific Crest Trail, two of the three "long trails" in the United States. His story is interesting reading and the May issue of Backpacker Magazine did a nice article on his family. It's worth clicking on the link and reading about them.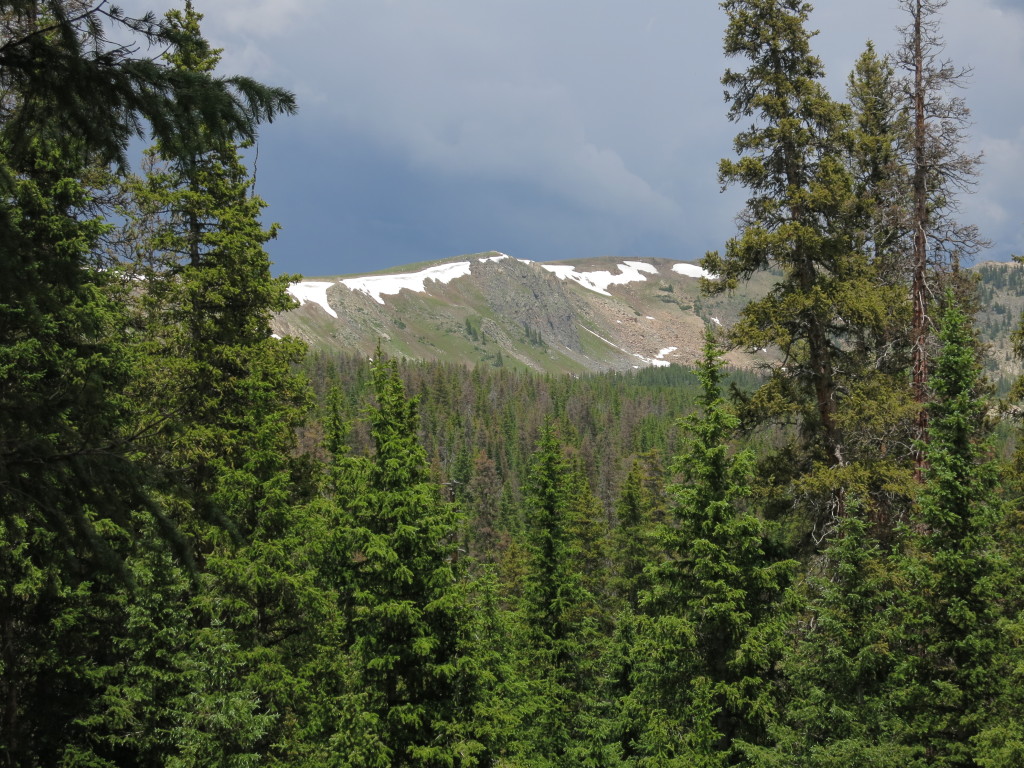 I realized I wasn't making great time climbing toward the Divide. Clouds began to roll in and I found myself a mere 4/10 of a mile from the ridge. However, I knew that just making it to the top would not put me out of danger if there was lightning.
A number of storms were brewing to the north and to the east. I decided to pitch my tarp and wait until the skies looked better before heading up. At this point I thought that perhaps the foursome of young men might come up to me. This offered me some comfort to then hike north with company above treeline. But, alas, it was not to be, and after an hour the skies were bluer in nature and appeared safe enough to move on.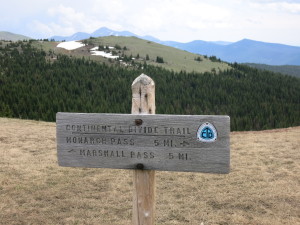 Cresting the ridge gave me the view that I had been waiting eight days to see. I was now in the big mountains of Colorado and as I looked west toward Gunnison it was ridge after ridge of high country.
I had to skirt a large snowfield to wend my way north on the now combined CT/CDT and decided to take a look over the edge to see if the boys were climbing, thinking I could bellow down an "all clear". As I peered over the edge, I didn't see them, but did see two cow elk grazing in the post early afternoon rain shower.
Now the walking was good and quick and I came upon a few more folks moving south. A CDT thru hiker that had been forced to flip-flop on the trail came my way. "Scatman" had already completed both the AT and PCT and completing the CDT would give him the "triple crown" of long distance American hiking. However, he was not boastful or even confident. Instead he confessed that he was struggling with the higher altitudes and section of trail stretching well over 100 miles that didn't dip below 11,000′. These thru hikers are genuine bad asses and I told him so. "I think we forget that. It's just hard out here day after day, and I know I'm not eating enough. But it's all I can do to force down my food. I don't care if I'm not making big miles, I want to enjoy the San Juans." As I left him I thought that someone needs to write a book about the people that walk these long trails for up to six months at a time. They are all so interesting and you can glean a lot about them in just a few minutes.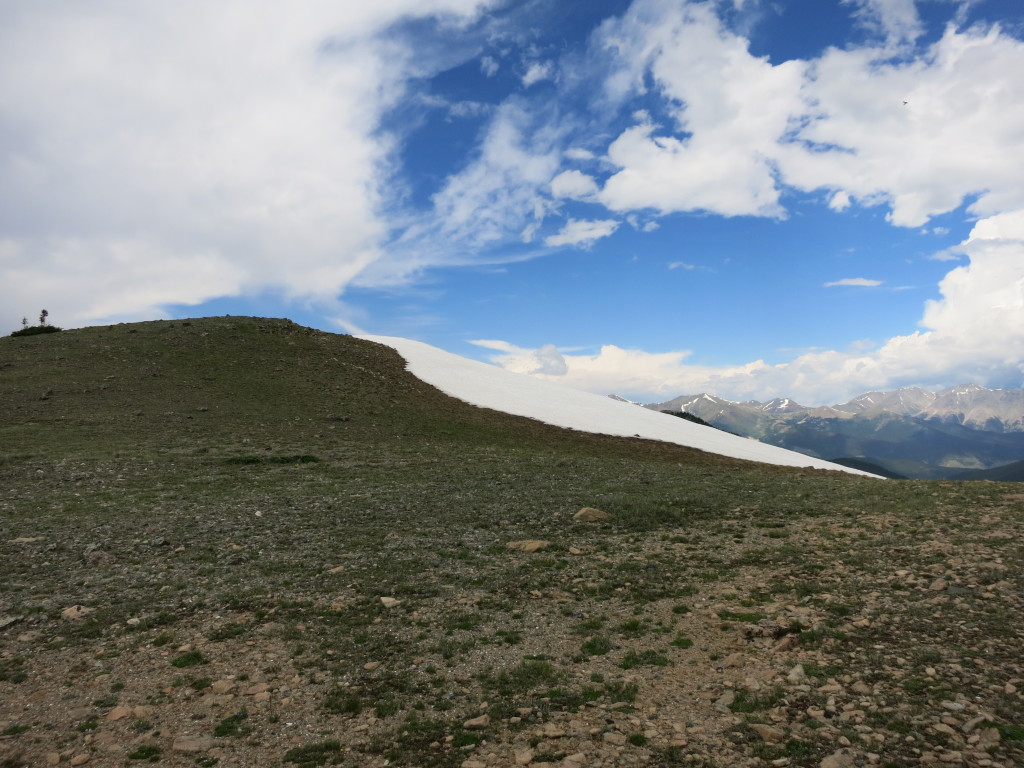 As I made my way out to Highway 50 and Monarch Pass the third storm of the day rolled through. I was fortunate enough to find shelter in the Monarch Crest General Store and have a sandwich, coffee and a pretzel while trying to check in with Pam. My progress of the week meant that tomorrow would be an easy 7 ½ mile day on the 4th of July. Sunday would be a subsequent five mile jaunt back up to the ski area as I waited for Pam.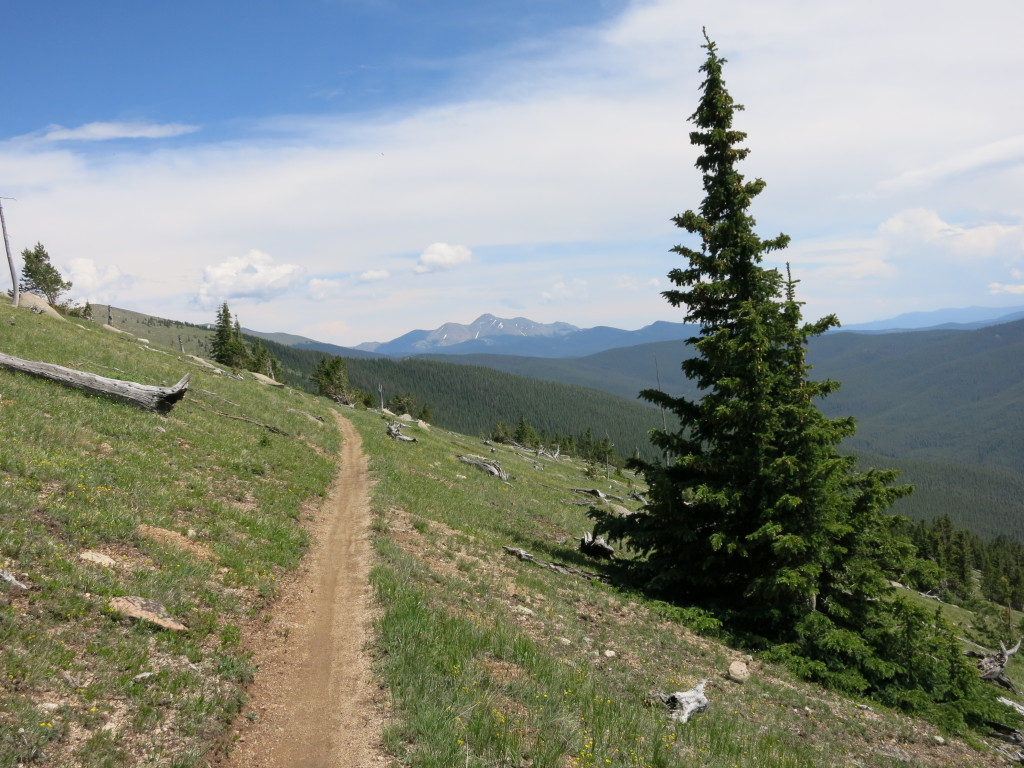 I walked another mile at the most north of Hwy 50 and Monarch Pass and found a level spot to pitch my tent. But egads! I had left my tent pegs back at the camp from hell! Remember the wet sack for my pegs? It was still sitting in the sun drying out. I had even looked over the site carefully but still missed the tent pegs. For the first time this year I dug out my Swiss Army Knife to carve tent pegs from surrounding sticks and they worked just fine.
 During the day I reflected on the feelings I had on Thursday when I had struggled. Over the past 20 years I have battled clinical depression but it has been years since it has really been an issue. Thursday's trek brought back some of those feelings just due to the nature of the day. I thought about how my experience on the trail of the week and battling the very real electrical storms mimicked the battle people face with depression. When a storm hits on the trail, the best bet is to just seek shelter and wait it out. After an exhausting day, hunkering down, reading, resting and a night's sleep can work wonders. It doesn't do any good to battle on, because at that point you risk real danger and potential calamity. Panic results in bad decisions that can prove fatal. Being scared is a positive thing that can save your life. Am I scared? If, yes, it means that I care about my future, that I have hope, that I am not so reckless that I am apathetic and don't care what happens to me. Apathy is very, very bad for a depressed person. They don't pay attention to warning signs that can present very real dangers. Apathy on the trail as well, can mean a dangerous end. But the storms always will pass. At times they may last for days but a good plan, good equipment and good people surrounding me always help me through the storms. Sunshine and smiles can lift a spirit like nothing else. I think being out here alone for ten days has helped remind me that it is good to push the boundaries, the comfort zone and do something that can literally be a little scary at times. It keeps it fresh and keeps it real, very real.