Saturday morning, Independence Day, 4th of July, our nation's birthday. To be honest, it's not my favorite holiday. I don't particularly like the excessive fireworks and my dog freaks out with them as well. So being alone in the mountains, with Pam to care for the dog at home is a pretty good deal. GOD BLESS the USA!!!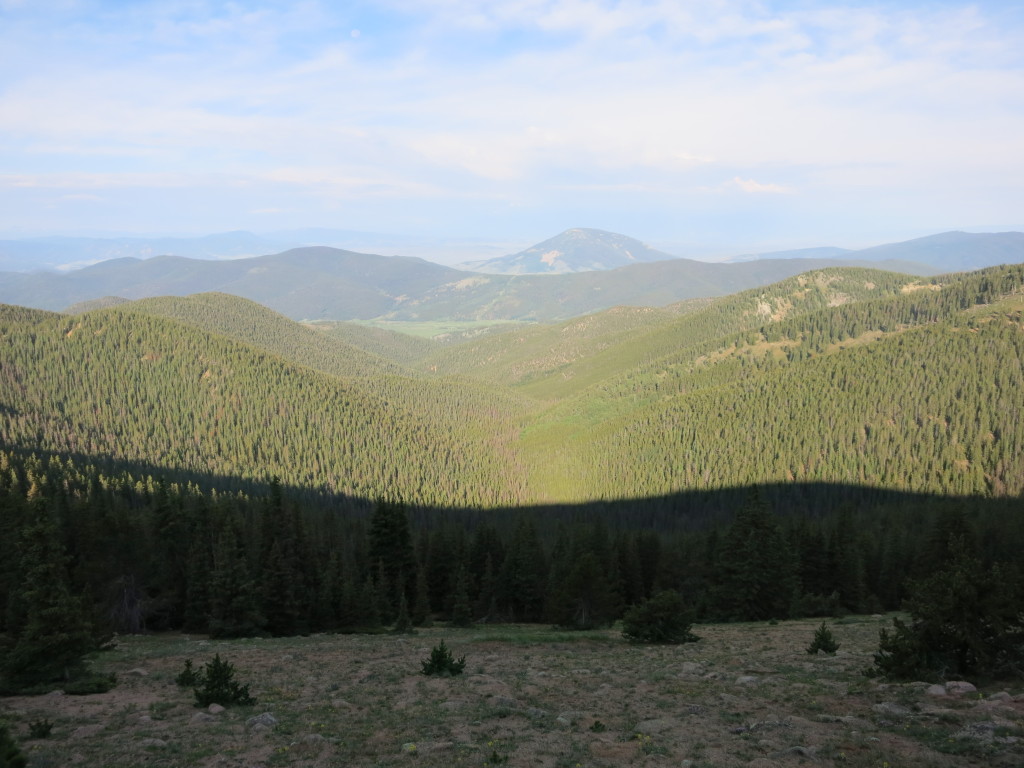 Not being sure what the weather was going to do I was out in a flash this morning at 6:09. No coffee, and granola bars on the trail made up my breakfast. The first few miles took me right through the Monarch Mountain Ski area. I passed a guy that was still sleeping in the back of his pickup. He had a Coleman lantern burning outside his truck and that made me chuckle a little bit thinking about it being some kind of night light. Guy sleeping in a big ass pickup with a night light; it still makes me giggle.
I wound my way around on the roads and trails until I came to singletrack that veered in a northerly direction. This was the first day where it was windy. It was also the first day where after a few miles I was looking for another layer instead of stripping down to my short sleeved shirt. The whole trip had been amazingly calm, but now at an elevation between 11k and 12k feet, the wind felt nice. I threw on an additional layer and admired the scenery that enveloped me.
I came upon an interpretive sign on the trail and almost didn't go over to check it out. I assumed it was just another display describing the Continental Divide, on one side water runs to the Pacific, the other to the Atlantic, blah, blah, blah. But I was pleasantly surprised to see it was something entirely different. And even upon arriving home I could not find a lot of information about the Monarch Pass Game Drives online but there are a few scientific research articles. According to information at the site, the lines of rocks were once walls that were used in prehistoric times, circa 1300-1800BC. Holy cow, that is old! Women and children would go into the timber and spook the game until they came out above tree line. At that point they would naturally funnel along walls that were perhaps three feet high and along the ridge line into the saddle. The men and older boys would lie in wait in u-shaped stone pits and then ambush the herds. Of course, they cured and ate all the meat, used the hides for clothing and certainly did not waste anything. It's amazing to think that these walls still exist if you know what to look for. It seems that not much in the way of artifacts has been discovered over the centuries. In perusing the internet there was another area near Rollins Pass that was also used for game drives.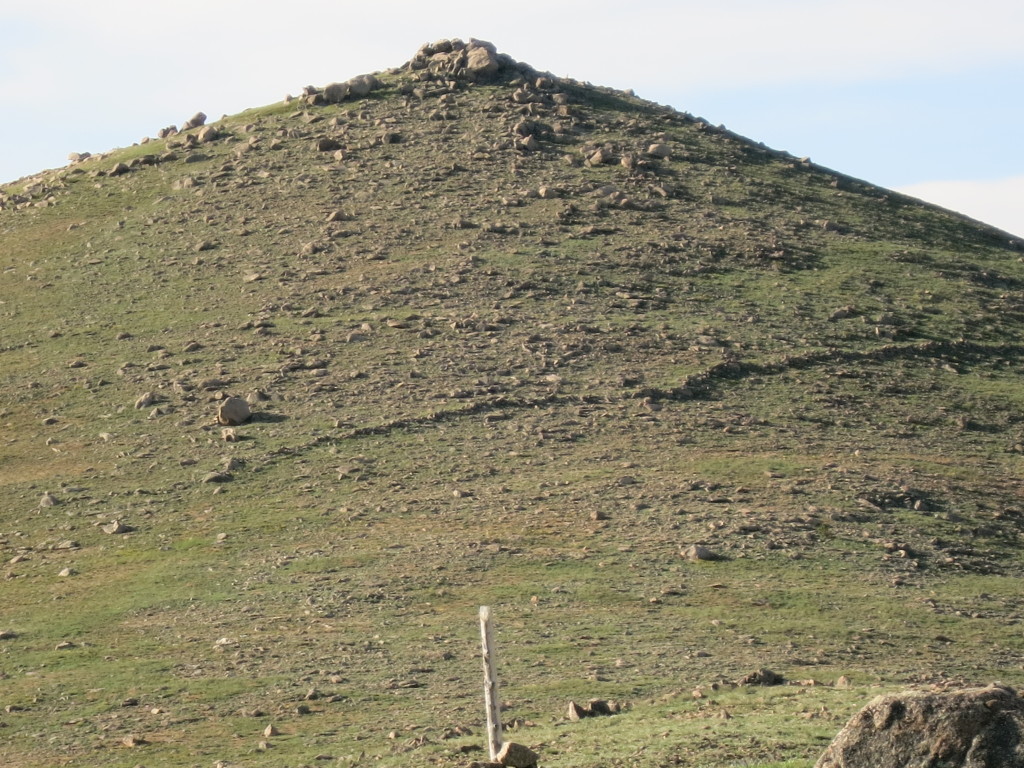 The morning continued to be fresh, breezy and light. I came upon three elk on the trail that were feeding in the tundra. I only saw one at first, her looking at me, me looking at her. Slowly I got my camera out to get a few shots and noticed two more behind her. They were a little more edgy and trotted out of sight. Cow #1 remained fixated on me. I think we could have stayed this way for quite some time, but I needed to keep moving. A step, then two and three and she sneaked around a small knoll. Once I got to that spot I didn't see her and I think she moved north down into the timber. As I looked over the edge to the west I saw the other two. It amazes me how adept elk are at clambering through rocky terrain, or any terrain for that matter. They are truly like ghosts in the mountains and even after living in Colorado for 24 years I continue to be fascinated by them.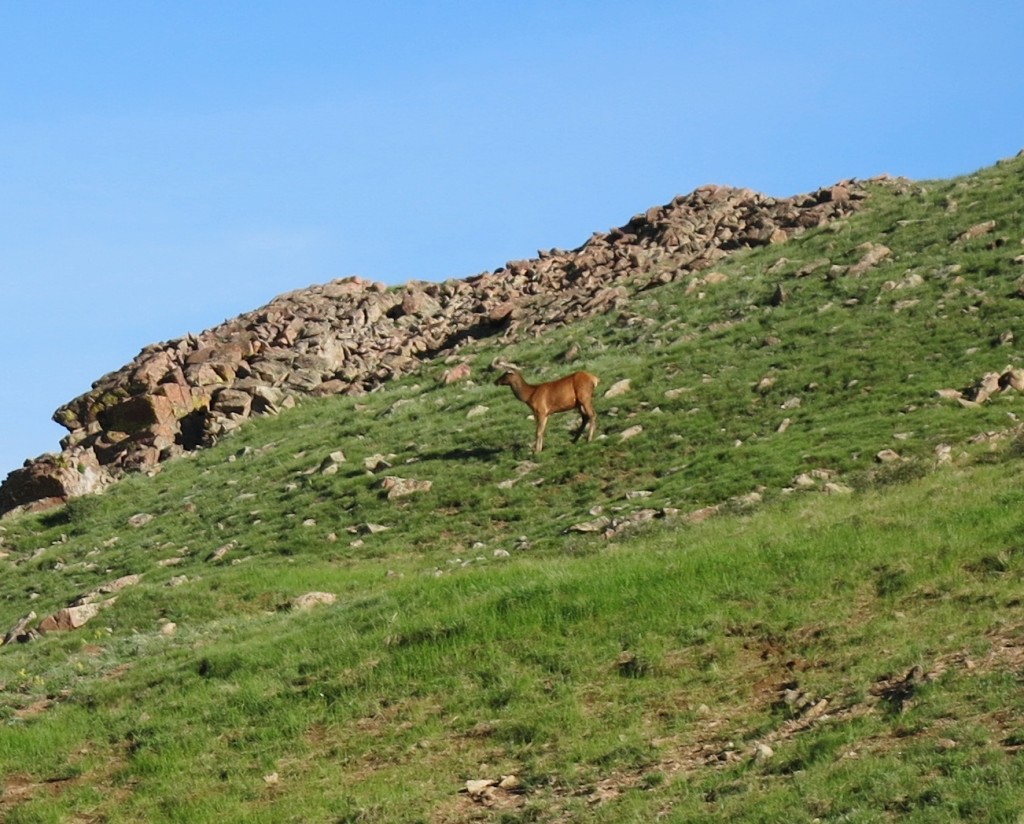 I encountered a fair amount of uphill after leaving the elk. The trail snaked out ahead of me and I saw that I needed to rise up to a contour line on the west side Bald Mountain. The elevation at this part of the trail was 12,515′ and marked the high point of my trip. To the north the trail morphed into a rocky, more difficult tread. The views directly north were expansive, wild and rugged.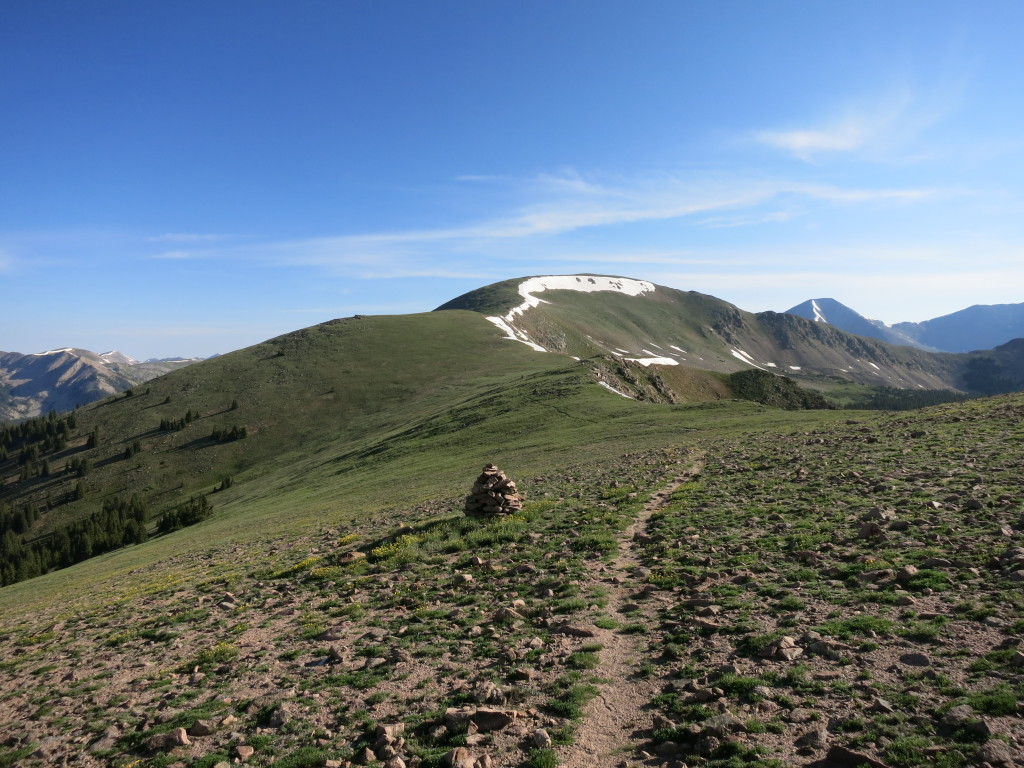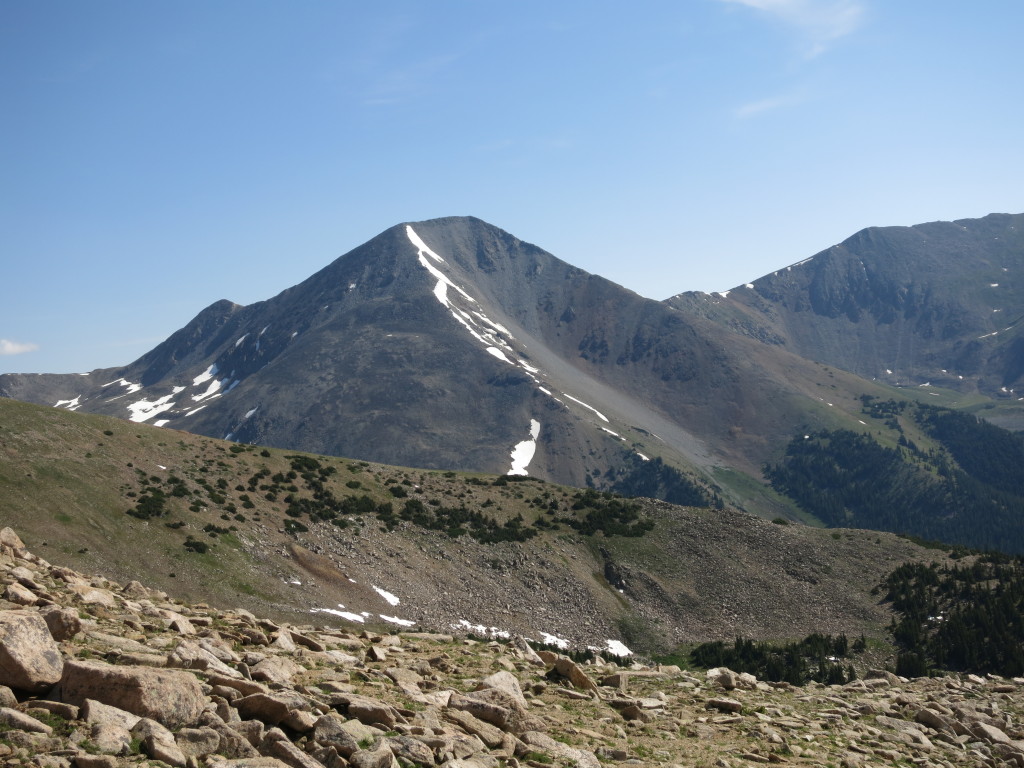 As I came back to the Continental Divide proper I met a man and younger girl, likely in her teens. They were hiking the length of the trail. He was retired, currently lived in Utah and has hiked all of the 14ers in Colorado, but even more impressive had climbed all but five 13ers, of which there are 759. As I meet more people like him and other thru hikers, the first question that comes to mind is, "What do these people do for work and how do they find the time to do all of this?" Yet I have spent a tremendous amount of my life on two wheels training and racing a bicycle. The races I've ridden in my life number in the hundreds and miles trained in the hundreds of thousands, so I guess many could ask the same thing of me.
I had to step into my first deep drift upon departing from my morning company and immediately began to drop down into a cirque that would lead to Hunt Lake. This would be my destination for my penultimate day and fishing would be my primary entertainment. I crossed paths with a young family camping for the holiday and ended up camping on the north side of the lake away from the activity of the holiday folks.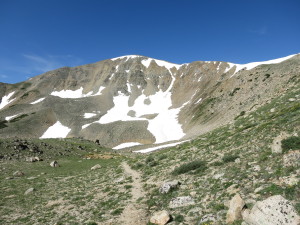 The fishing was trickier here because the lake was designated as a Greenback Cutthroat trout restoration project. These fish are smarter and while I did catch one on my first cast, I only caught a half dozen or so on the day.
In the evening I was able to take a stroll and look around the area. I realized that here on the 9th day I had not done a lot of exploring. It is not unusual for me to walk many miles in a day, and then go for a stroll bushwhacking in the evening. I love to explore areas off trail and look at the forest from the perspective of an animal, thinking about what looks appealing to them. My mind wanders thinking about what it must be like to live in a place like this for a whole life. To rise, eat, conserve energy, mate once a year as a way of continuing the species. To graze all winter long on browse, bark and pawing through deep snow, using energy to stay strong for the short growing season so as to do it all over again. Caring for young as a mother and fending off predators that seek an easy meal. Migrating to different areas when the herd feels the primal urge to move to different ground, elevation, areas of home. Do they sense the danger of electrical storms as humans do? I have been told through a class on trauma and the body that animals literally shake off danger after being presented with it, so that their nervous systems do not hold trauma in the body like the human body does. They are experts in energy conservation and their senses are superior to the human species. The elk population alone in Colorado is 280,000. In ten days, walking over 130 miles on trails I have seen five. I have seen countless more tracks, scat and at times smelled them. But they are the true backcountry experts of the wilderness, along with their ungulate cousins and the other mammals of the forest. On a hunting trip many years ago with my father-in-law commented after yet another exasperating day hunting elk, "Who are we to think we can come out here and outsmart an animal that lives here 365 days a year?"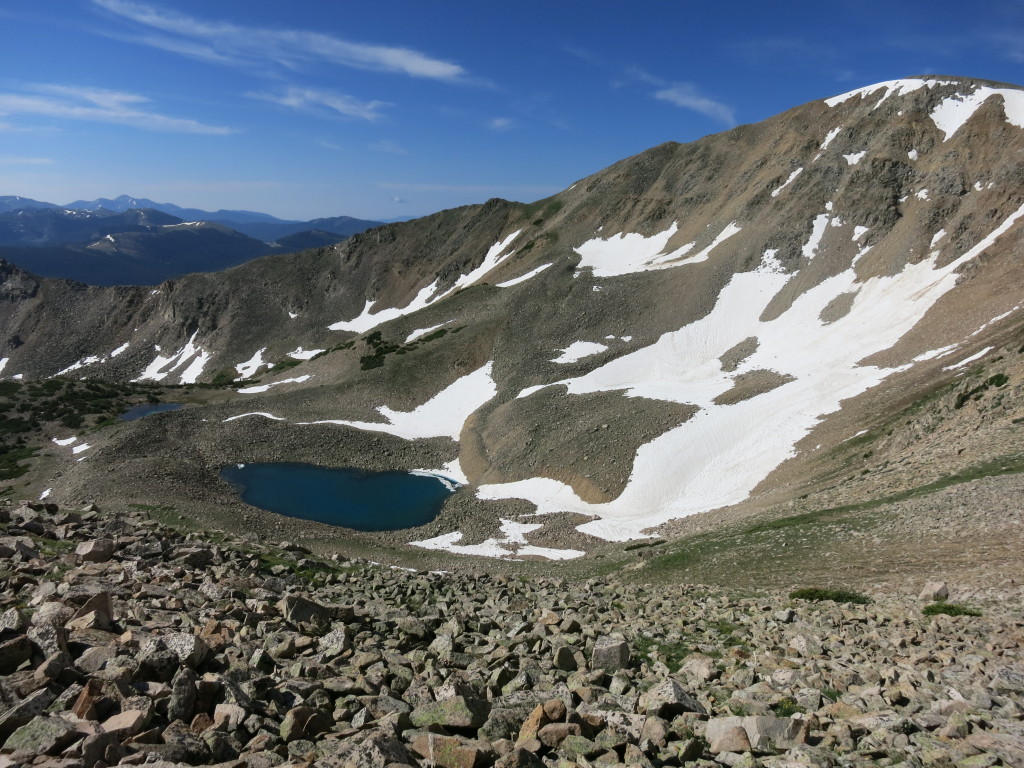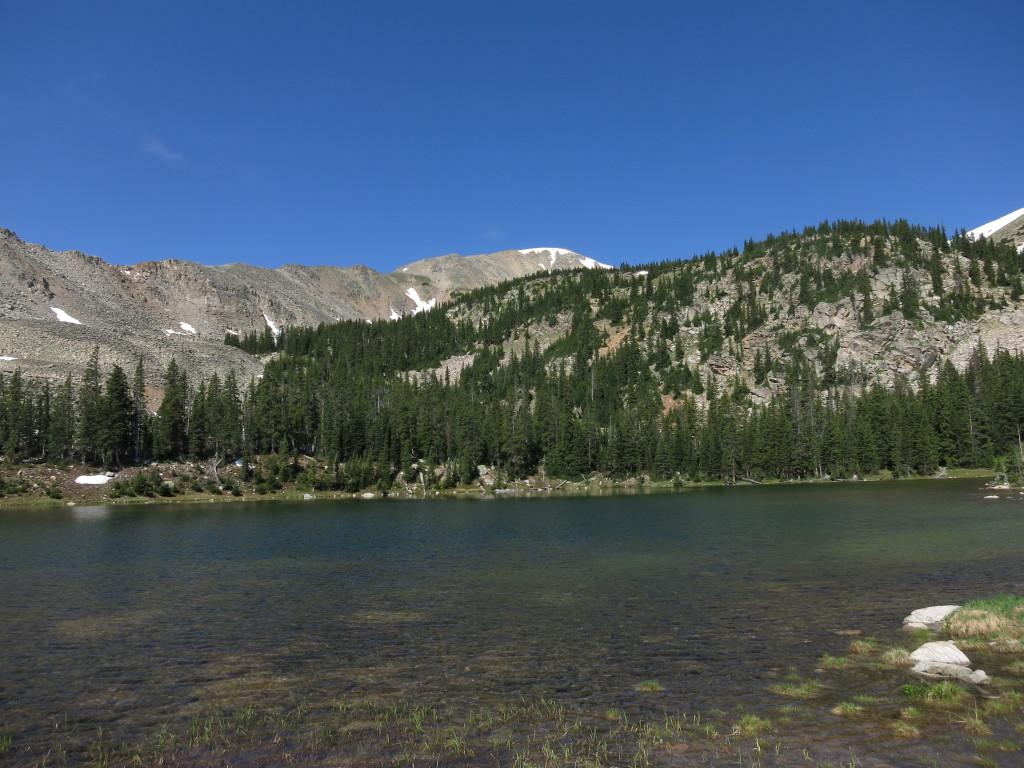 That night sleeping was the first night where it was even vaguely cold and that the wind blew strongly. Two times in the night I was awakened by something cracking branches nearby the area I was sleeping in. Alerted and excited I craned to look in the dim moonlight for an animal, likely an elk by the level of the noise, only to be left to my imagination about what it might have been.
In the morning I had the last of the coffee I brought along, some breakfast and broke camp for the last time. Feeling happy to see Pam and a bit sad to leave the wilderness I made my way out a few miles to Highway 50. From there it was a three mile walk on the highway to the Monarch Ski area. As I walked uphill with a 30 pound pack I saw an animal walking the same direction. I got close enough to see it was a Bighorn sheep. I continually had to stop because I was moving faster than she was. Cars slowed, some beeping their horns to alert her. She could not have cared less about the human commotion around her. Eventually she crossed the road and went up an embankment and walked the contour line of the mountain. My pace brought me along side her and she posed perfectly for a photo, an appropriate capstone to my journey over ten days in the mountains of Colorado.