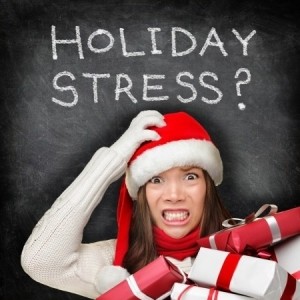 And we really don't benefit from more stress in our lives.  We begin the month of November thinking about Thanksgiving and gratefulness.  With the advent of social media we have seen more of this in recent years where folks launch "days of gratefulness campaigns".  This is a refreshing change and I love the opportunity to reflect on the blessings in my life.
Then we transition to the holidays, Christmas, Hanukkah, end of year celebrations, holiday parties and the whole lot.  It can be challenging to find balance and peace within all of this.  Hence….STRESS becomes a bigger player in our lives!
One way to combat this is to be intentional about the details in your life that contribute to stress.  Setting some goals around what you want from the holidays is a good way to start.  What brings you joy?  What brings you peace?  What brings you contentment?  Jot these things down and take part in activities that bring you toward your goals.  Frequently, more is less, and never more so than during the holidays.  So intentionally setting limits around holiday parties, activities and gatherings can help put more focus on what is important to you during the upcoming holiday season.
It is the position of the American Massage Therapy Association (AMTA) that massage therapy can be effective for stress relief.  Obviously as a professional massage therapist, I support that position as well!  Below is what the AMTA says about stress and massage therapy.  Stress is a prevalent component in today's fast-paced world which can negatively impact on an individual's health and well-being. Massage therapy has been shown to be a means by which stress can be reduced significantly on physical and psychological levels.
I, too, struggle from a business standpoint with the question of when I begin my marketing around the holidays.  I strive to find the balance of effective marketing, my core beliefs and the holiday machine.  So my intention is to say thank you for the blessing to be able to serve you in my 13th year of business and take advantage of a 3 pack special of 60 minute massages for $195 (normally $225)  It's a great way to create a strategy around stress management and also makes some great gifts for loved ones this holiday season.   Above all, stay ahead of the stress this holiday season and be grateful and rejoice in all you have learned over the past months of 2014.