Over the last few years I've begun doing more backpacking and exploring the wilderness in my home state of Colorado. The catalyst for this was a college visit with my son, Ben, to Alamosa two years ago. It had been 20 years since I'd been to the San Luis Valley and I realized that I was missing a whole other world by spending so much time on my bicycle on paved roads. A nagging back injury moved me in the direction of wandering in the wilderness. A year ago on some shorter three days trips on the CT with my friend, Jamie, and my wife, Pam, we decided longer trips would be exciting. So turning 50 this year I wanted to do a ten day trip of some sort. It began as one thing but ended up being a solo journey. Scary…
The desire to explore the wilds of Pennsylvania as a teenager and young man were triggered and influenced by my father and mentors while hunting in central Pennsylvania. I do a lot of reading about adventurers, vagabonds and explorers. Some that have been inspirational and historical have been Ernest Shackleton, Ferdinand Magellan and Everett Ruess.  And currently I'm following an old friend, David Anthes, and more recent friend, Eli Zabielski, who are both doing the Pacific Crest Trail, a 2600 mile "long trail" stretching from Mexico to Canada.
I captured my trip in photos and words scrawled in a crude journal at each days end as I lay in my tent, usually during a rain event of some sorts. The photos were many and I've tried to pare them down to a few of the best or those that relate to the journey or my feelings. I had no specific goals for the trip other than to carry my needs on my back and spend some time fishing at high alpine lakes.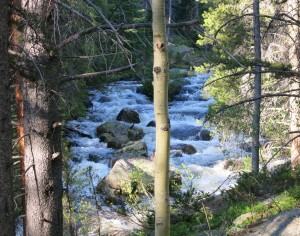 My plan was to have Pam drive me to Leadville and drop me off for my first day as I "slackpacked" (hiking with just my daypack) with a light load 21 miles to Twin Lakes Village, where my friend, Walter, is remodeling an 1880s miner's cabin. She would leave my regular sized backpack there, have coffee with Walt and then drop off a re-supply box of food that I had prepared beforehand at Mount Princeton Hot Springs where I planned to pass through on Tuesday.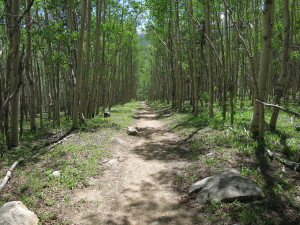 True to 2015 trail form, my literal first steps were getting over some wet, muddy terrain and I nearly fell on my ass before I had walked five steps. I quickly looked over my shoulder to see if Pam had seen my acrobatics and her waning brake lights reinforced that I would be spending a lot of time alone over the next ten days. In the past year, she and Jamie have been my soul mates on the trail. I would miss them dearly being solo this time. But that was one of the reasons that I chose to go alone; because I knew my feelings for Pam would be cemented because of a forced separation wandering through the Collegiate Peaks in the Sawatch Range of the central Rocky Mountains of Colorado.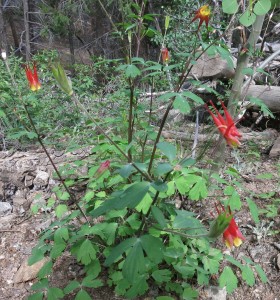 I hadn't been more than a mile and a half out and I had to shed some layers after my 7:00 am departure; it was warming up quickly. Down the trail came a seasoned, tan, lithe, rugged man. He stopped to talk and after a quick exchange of a few sentences I asked him, "Are you the guy that had the problem with the ticks in Wyoming?" Small world in the 21st century; I had read a post from this man's blog just a few days before. His trail name was "Lion King" and he was hiking the Continental Divide Trail from Mexico to Canada. The CDT is the longest of the three "long trails" in the US, spanning 3100 miles. It shares much of the same route as the Colorado Trail and I would run into quite a few CDT "thru hikers" during my short journey.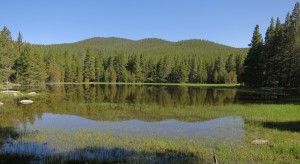 By 12:30 I had covered 13 1/2 miles ending up at Halfmoon Creek. It was warm, but I had a light pack and I was making good time. I stopped by the creek to have a quick lunch of Honey Stinger waffles with Justin's Almond Butter before setting off again. Seeing Walt after the first day was a big motivator but I had to do my best to throttle back my pace with it being the first day out. It would have been better mentally to see him after day five or so, but it wasn't going to work out that way.
I arrived at his cabin at 3:45, with just over 21 miles under my belt. But I had pushed it pretty hard, especially after coming off weeks and weeks of doing full days of massage. I sat down outside, had something to eat and confessed I needed to lie down. I napped while he made some dinner. He informed me that there was a bear problem in Twin Lakes with up to five bears on the prowl, so I opted to sleep inside his cabin that night. This puts a mild kink in my goal of sleeping outside 30 times in 2015, but better safe than bear wrestling in the dark.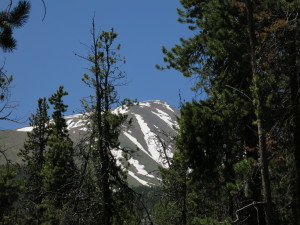 Miles Traveled Friday – 21+ Sleep Elevation – 9300′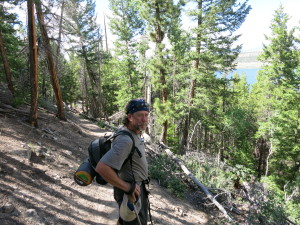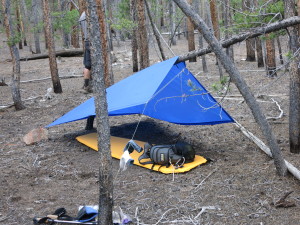 The next morning we headed down to Twin Lakes for some fishing and a quick canoe trip. We headed back to his place for some breakfast and then Walter came along with me for eight miles on the trail. We camped out together that evening. Walter is another of my soul mates. We lived together in Romania and have shared many crazy adventures together in various countries. It was good to be with him again in this setting. It would be hard on Sunday to say goodbye to him and head away from our comfortable, warm relationship.
Miles Saturday – 8 Total Miles – 29 Sleep Elevation 9819