Click here to purchase the Self Massage for Recovery video through Amazon for just $1.99!
A key aspect of an endurance athlete's training program is recovery.  The faster you recover, the more quickly you can get back to your hard efforts and races.  This video teaches athletes how to do self massage in a quick 20 minute sequence.  Learn more below.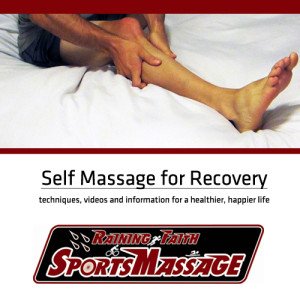 Self Massage for Recovery is a 20 minute hands on recovery technique designed by a cyclist and professional massage therapist.
An athlete's gains can only be made in effective training programs with adequate recovery. Without adequate recovery endurance athletes enter into a dangerous area of over training and chronic fatigue.
Research shows massage therapy quickens the recovery process and receiving massage as quickly as possible post training or competition is of the most benefit to athletes; yet due to cost and time it is not always entirely feasible.
The video Self Massage for Recovery teaches endurance athletes an easy to learn 20 minute self massage sequence to quicken the recovery process and maximize training programs.
Video Highlights
Demonstration and Explanation of Applied Techniques
Theory and Science Explained
The 20 Minute Sequence in Detail with Identification of Muscle Groups
Bonus Tips and Techniques

IT Band Pain
Knee Pain
Shin Splints
Plantar Fasciitis